Integration Benefits
With the Gatsby + Stamped integration, you will be able to reward your customers for Instagram and Tiktok Mentions as part of your broader loyalty program in Stamped. This guide shows you how to set up your Stamped + Gatsby integration to start building social engagement with your loyalty points program.
Tutorial Videos
Watch this short video and follow along as Brett, the founder, and CEO of Gatsby, teaches you how to set up the integration:
Once you've set up the integration, here is how things will look and the points will work:
Step-by-Step Guide:
Step 1: Create Custom Rules for Instagram and TikTok mentions
Log into Stamped >> Loyalty & Rewards >> Points >> Add New Rule
Scroll to the bottom to Custom Activity, click Add Rule
Fill out the details any way you would like:
If you did the above for Instagram Mention, repeat the same step for TikTok mentions.
Step 2: Copy Campaign IDs to Gatsby
Once you're done creating your 1 or 2 Custom Activity Rules, and you're at the bottom of the Custom Activity setup, copy the Campaign ID to your clipboard.
Step 3: Paste in Gatsby
Open Gatsby >> Integrations >> Stamped >> and paste your corresponding Campaign IDs:

Repeat that step for your TikTok Campaign ID as well, and then copy the rest of your Stamped Keys from:
Stamped >> Loyalty & Rewards >> Settings >> API Keys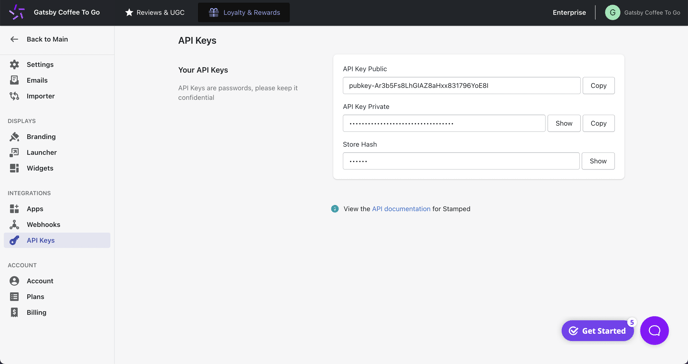 Once you fill in all 5 fields in Gatsby, click Integrate and you'll see a blue success message and you'll now have the option to Disconnect instead of Connect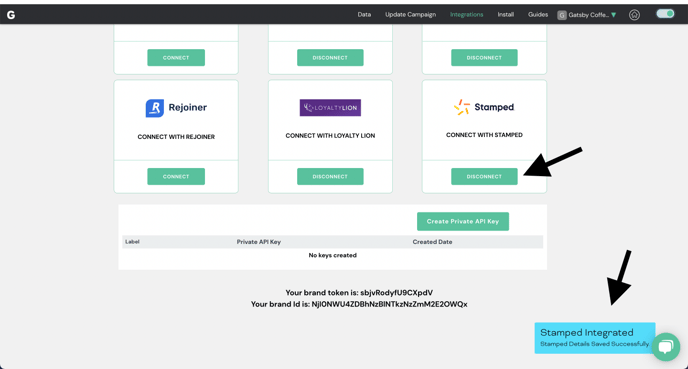 Testing The Integration
To test if this is working, find a customer who is in both your Gatsby and Stamped accounts and have that person either tag your brand on Instagram or publish a TikTok video using the hashtag you're tracking. Within 20 minutes you should see the mentioned event hit Stamped.
For example, it will look something like this: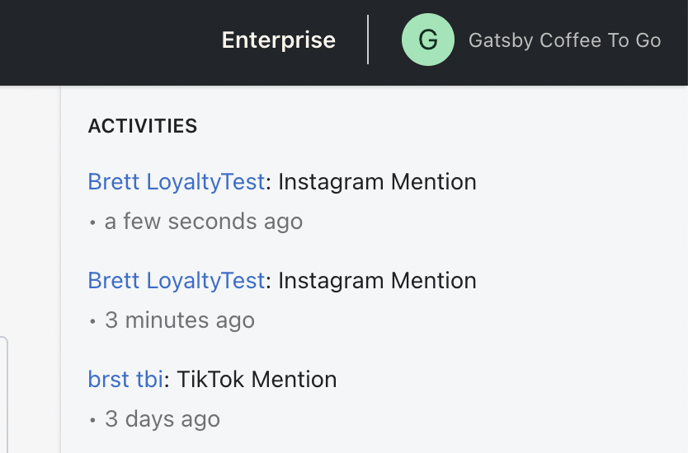 Just a reminder, that Gatsby will not be creating new accounts for Stamped. In order for Gatsby to track mentions and pass these insights to Stamped, your customer must be in both your Gatsby environment and Stamped environment with the same email address.
This integration was created and owned by Gatsby. Please reach out to them directly with any specific questions, and the Stamped team is always happy to lend a hand at support@stamped.io.